I'm starting a new section in my blog where I discuss my edit process, traveling for gigs, and product reviews. So, here goes my first post in the new "Gear" section! :)
Packing in general is stressful, but needing to pack for a gig out of town/state makes it 10x stressful. As a mobile editor, my traveling gigs are usually between 2-5 days and I'm either working in the hotel room or an AirBnB. Here are my essentials all in one bag/backpack for the mobile editor (light edition).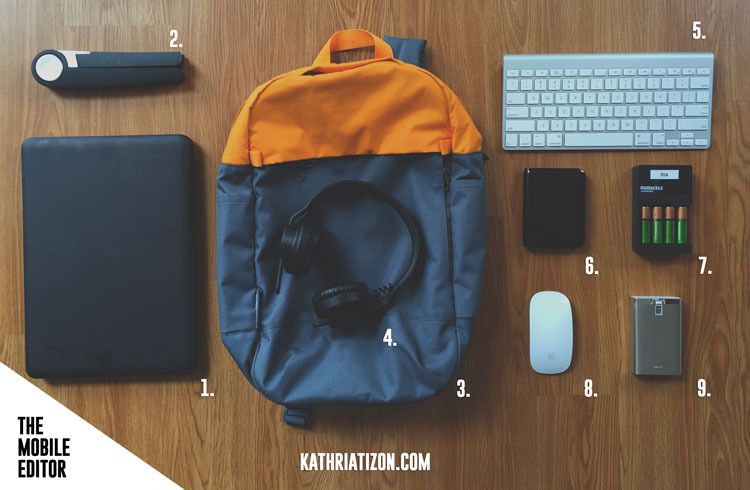 1. MacBook Pro 13"
2. Cosmos portable laptop stand
3. Incase campus compact backpack
4. AiAiAi TMA-1 headphones
5. Apple wireless keyboard
6. WD My Passport 1 TB x2
7. Duracell Ion Speed charger + batteries
8. Apple magic mouse
9. PNY PowerPack 7800 dual port
Not pictured:
Insignia hard drive case
Tech pouch - no name that I bought at a local store in SF
Cables (MBP charger, USB 3, thunderbolt, etc)
Notes:
2. I absolutely love how compact this laptop stand is - it can even fit in my purse! 5. & 8. These save port space and no cable clutter - go wireless! 6. Always bring extra hard drives just in case, 7. Best batteries for your buck, and you can find them anywhere 9. Never travel without one of these! This is one of the best phone/tablet powerpacks because it has a battery level monitor and the exterior doesn't heat up like most powerpacks - really amazing quality!